Antartica - Giant Marine Life
http://news.yahoo.com/s/ap/20080321/ap_on_sc/antarctic_sea_life
Giant marine life found in Antarctica
AP Photo:
In this undated photo supplied by the National Institute of Water and Atmospheric Research, or
By RAY LILLEY, Associated Press Writer Fri Mar 21, 1:19 PM ET
WELLINGTON, New Zealand - Scientists who conducted the most comprehensive survey to date of New Zealand's Antarctic waters were surprised by the size of some specimens found, including jellyfish with 12-foot tentacles and 2-foot-wide starfish.
A 2,000-mile journey through the Ross Sea that ended Thursday has also potentially turned up several new species, including as many as eight new mollusks.
It's "exciting when you come across a new species," said Chris Jones, a fisheries scientist at the U.S. National Oceanic and Atmospheric Administration. "All the fish people go nuts about that — but you have to take it with a grain of salt."
The finds must still be reviewed by experts to determine if they are in fact new, said Stu Hanchet, a fisheries scientist at New Zealand's National Institute of Water and Atmospheric Research.
But beyond the discovery of new species, scientists said the survey, the most comprehensive to date in the Ross Sea, turned up other surprises.
Hanchet singled out the discovery of "fields" of sea lilies that stretched for hundreds of yards across the ocean floor.
"Some of these big meadows of sea lilies I don't think anybody has seen before," Hanchet said.
Previously only small-scale scientific samplings have been staged in the Ross Sea.
The survey was part of the International Polar Year program involving 23 countries in 11 voyages to survey marine life and habitats around Antarctica. The program hopes to set benchmarks for determining the effects of global warming on Antarctica, researchers said.
Large sea spiders, jellyfish with 12-foot tentacles, huge sea snails and starfish the size of big food platters were found during a 50-day voyage, marine scientist Don Robertson said.
Cold temperatures, a small number of predators, high levels of oxygen in the sea water and even longevity could explain the size of some specimens, said Robertson, a scientist with NIWA.
Robertson added that of the 30,000 specimens collected, hundreds might turn out to be new species.
Stefano Schiaparelli, a mollusk specialist at Italy's National Antarctic Museum in Genoa, said he thought the find would yield at least eight new mollusks.
"This is a new brick in the wall of Antarctic knowledge," Schiaparelli said.
................................................................................................
| | |
| --- | --- |
| Strange Sea Creatures Found in Antarctica | |
Associated Press
February 20, 2008
Scientists investigating the icy waters of Antarctica said Tuesday they have collected mysterious creatures in the murky depths, including giant sea spiders and huge worms. (See video and photos.)
[
Sea Spiders are a crustacean that can be found off the coast of the US. However, they are typically dime sized in the US, here they get up to 12 inches across. This one (in a holding tank at the aquarium at Crary Lab), was about 8 inches across.]
Scientists collected specimens from up to 6,500 feet (2,000 meters) beneath the surface of the Southern Ocean as part of an international project to take a census of Antarctic marine life.
Some of the animals far under the sea grow to unusually large sizes, a phenomenon called gigantism that scientists still do not fully understand.
"Gigantism is very common in Antarctic waters," Martin Riddle, the Australian Antarctic Division scientist who led the expedition, said in a statement. "We have collected huge worms, giant crustaceans, and sea spiders the size of dinner plates."
New Species?
The specimens were being sent to universities and museums around the world for identification, tissue sampling, and DNA studies.
"Not all of the creatures that we found could be identified and it is very likely that some new species will be recorded as a result of these voyages," said Graham Hosie, head of the census project.
The expedition is part of an ambitious international effort to map life forms in the Antarctic's Southern Ocean and to study the impact of forces such as climate change on the undersea environment.
Three ships—Aurora Australis from Australia, France's L'Astrolabe, and Japan's Umitaka Maru—returned recently from two months in the region as part of the Collaborative East Antarctic Marine Census.
The work is part of a larger project to map the biodiversity of the world's oceans.
The French and Japanese ships sought specimens from the mid- and upper-level environment, while the Australian ship plumbed deeper waters with remote-controlled cameras.
"Fins in Various Places"
"In some places every inch of the sea floor is covered in life," Riddle said. "In other places we can see deep scars and gouges where icebergs scour the sea floor as they pass by."
Among the bizarre-looking creatures the scientists spotted were tunicates, plankton-eating animals that resemble slender glass structures up to a yard tall "standing in fields like poppies," Riddle said.
[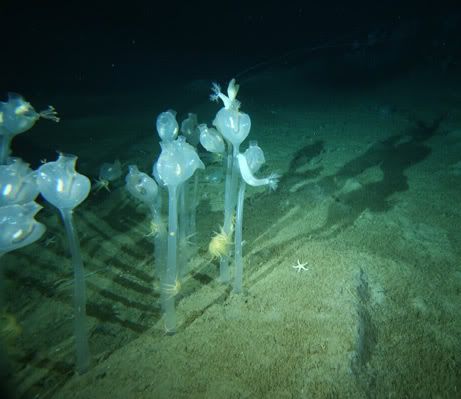 February 20, 2008—Looking like glass tulips, these tunicates are actually animals—early seafloor colonizers in areas of the Southern Ocean recently disturbed by iceberg scouring. Scientists say these plankton-eating tunicates that can grow up to a yard (meter) tall. In the Southern Ocean they were found "standing in fields like poppies," said Martin Riddle, the Australian Antarctic Division scientist who led a recent expedition to take a census of Antarctic marine life. Photograph by Martin Riddle/Australian Antarctic Division]
Other animals were equally baffling.
"They had fins in various places; they had funny dangly bits around their mouths," Riddle told reporters. "They were all bottom dwellers so they were all evolved in different ways to live down on the seabed in the dark. So many of them had very large eyes—very strange-looking fish."
Scientists are planning a follow-up expedition in 10 to 15 years to examine the effects of climate changes on the region's environment.
Copyright 2008 Associated Press.
Labels: antartica-giant marine life